After
LeBron James
and his people suggested the reaction to his
Miami
move was rooted in racism, you had to figure it was only a matter of time before
Charles Barkley
weighed in
. And weigh in he did, swinging some heavy lumber: "The only criticism I've heard about
LeBron
and it was my biggest criticism, that decision thing was just stupid. It was stupid. The second thing when they all came out there dancing around on stage, that was silly. That's the only thing I've heard
LeBron
get criticized about. That has nothing to do with race. It's like watching a movie, just when you think it couldn't get any stupider, it gets more stupid."
Barkley
also took his own network - TNT - to task for "unprecedented ass kissing" in their coverage of the
Heat
.
Another busy day of soccer action in all the major leagues across
Europe
. If you're looking to catch some games on this side of the pond, your best bet is to
check this awesome site
.
If you're looking to get down a
World Series
futures wager, consider this: the
Philadelphia Phillies
will have 17 of 19 starts made by the hot trio of
Roy Halladay, Roy Oswalt
and
Cole Hamels
. Click on the
Pinnacle
link above to get down.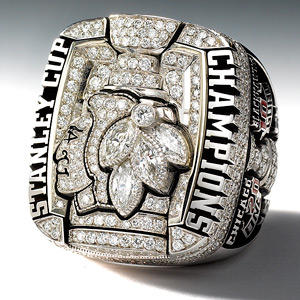 The
Stanley Cup rings
that the
Chicago Black Hawks
will be rocking might be the most awesome I've ever seen. A mere 8 carats over 404 diamonds.
Michigan
offensive lineman
Taylor Lewan
might have the best game for meeting ladies I've ever seen.
Lewan
had a mustache tattooed onto his finger
that he holds up when meeting ladies. Awesome.
With regard to
Felix Hernandez Cy Young
candidacy: no pitcher has won the award while winning fewer than 60% of his decisions. That year, it was
Gaylord Perry
who went 24-16.
Jayson Stark
at
ESPN
told
The Michael Kay Show
yesterday that when you ask pitchers about the award, they - to a man - laugh out loud that people are considering anything other than wins to be most important.
Maybe the
Texas Rangers
will be able to compete in signing their pending free agent
Cliff Lee
after all, now that they've
signed a massive local television deal
that will see them bring in $75-80 million a year over the next 20 years. Maybe they'll be able to throw enough at
Lee
to make him forget his worst stats in his career come in
Arlington
, home of the
Rangers
, and that not only are the
New York Yankees
interested, but that he's good friends with
CC Sabathia
and
AJ Burnett
, and that the
Yankees
are interested. On second thought, it changes nothing.
The final road trip of any baseball season is the time when most teams run their fairly tame rookie initiations. This year, the
Florida Marlins is noteworthy, especially the Baywatch outfit of Logan Morrison.
Since joining the
San Francisco Giants
in
May
as a rookie, only four
National League
players beat
Buster Posey
in batting average and slugging:
Albert Pujols, Carlos Gonzalez, Joey Votto
and
Matt Holliday
. That is a star in the making.
Anna Kournikova
will be joining
"The Biggest Loser"
- a weight loss show - to give tennis lessons to those looking to lose weight. That ought to be motivating, a rake of a girl who pretty much has made a career on good looks.
Manchester City's
wild spending last year
left the team a mere $191 million (USD) in the red
last year. Guess that's bound to happen when you spend $475 million on players and still don't qualify for the
Champions League
after a fifth place finish. City says
they'll scale back spending
. Ya think?
Pick-up line: ask a girl if she has a boyfriend. If she replies yes, ask her if she would now like a man-friend.
The author? Ben Roethlesberger.
Oh, and the
Steelers
like to smoke weed.
Inter Milan's Wesley Sneijder
says
he'd only play for
Manchester United
if he were to leave
Inter
. See you in January,
Wesley
.
A great short film on the inner workings of
Toronto FC
management and
MLSE
, by extension. Incredible.