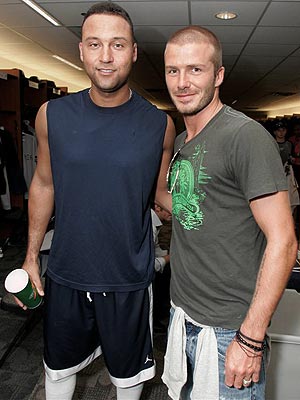 Once again, the
LA Galaxy
roll in to Toronto and
David Beckham
will not be playing. Those that scalped their tickets early must be loving it.
Toronto
will be minus
Maurice Edu
(
U.S. National Team
duty),
Greg Sutton
(
Canadian National Team
duty vs.
Brazil
!) and
Laurent Robert
(suspension) . Still, with
LA's
defence being so poor, I suspect my men's league team could score on them.
TFC
wins at
Fortress BMO
. Kickoff is 3pm Eastern, coverage on
CBC
...for the boneheads who brag that the
Jays
have never had a year where they were top payroll and didn't win the
World Series
, I give you 1995...here's an interesting dilemma.
Derek Jeter's
contract with the
Yankees
expires after the 2010 season. Any expert in the game and most novices will tell you his defense is sliding badly despite recent
Gold Gloves
. He doesn't hit for any kind of power anymore and the usual spot you'd move a
Short Stop
to is tied down by some guy named
A-Rod
. Do you move him to first, a spot where you typically want a power guy, when 28-year-old childhood
Yankee
and
Don Mattingly
fan
Mark Teixera
is available this off season? Or to the outfield, where you're not sure he can cover the ground? Something will change in the next couple years, that's for certain. He'll get huge money, but I'm not sure he's close to worth it anymore...guess which
New York Giant
didn't show up to get his ring
? If you had
Jeremy Shockey
, you win...is it just me, or does it seem like the
Williams
sisters either both go deep or both go out at the same time?...
Barry Melrose
is rumored to be taking over the
coaching job with the

Tampa Bay Lightning
. Now, isn't he exactly the same as the coach they have now in
John Torterella
?...that
"idiot kicker"
Mike Vanderjagt is back on the Toronto Argos
. That ought to sell tickets...an emailer to the
Jim Rome Show
on
Michael Jackson
being in attendance at a
UFC
event: "he thought 'UFC' stood for 'Unlimited Five-year-0ld Children'"...speaking of Rome. Longtime listeners may recall his story of the homeless man being lodged in a windshield after getting hit, and the driver going home, and parking the car in her garage and getting her sex on while he slowly bled to death. Well, there's a
movie being made on the story
...
Gene Simmons
and
Danko Jones
,
eat your hearts out
...the NBA got its "dream" matchup, with the
Lakers
slated to face the
Celtics
in the final. The only way I'd feel more like my early days watching hoops would be if the
76ers
were contenders too. At the start of the playoffs, I picked the
Celtics
to hoist the ugly trophy, but now, have some leanage to
Kobe
and the
Lakers
. Maybe some of that is due to the fact that I think if
Boston
fell into the ocean, I would celebrate for months on end...the
Blue Jays
will be the first to see
Joba Chamberlain
start a major league game on Tuesday...have a great Saturday.