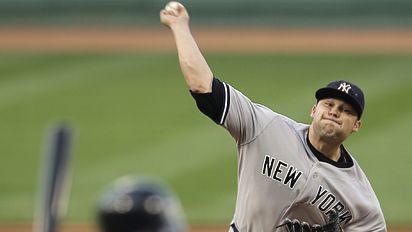 Joba Chamberlain
showed why he's been off any trade talks the last year plus as he went into
Fenway
and dominated the
Sawks
in a 1-0 Yankee win, giving up three hits in seven innings...the
LoHud Yankee
blog is reporting that the
Yankees
traded for
Xavier Nady
and
Domaso Marte
of the
Pittsburgh Pirates
. Clearly, the
Yankees
future includes the present...the
U.S.

hoops team beat

Canada
a mere 120-65. Wonder what it would've been had
Lebron James
played?...there are the
New York Giants
, whining again about being disrespected as everybody is picking the
Dallas Cowboys
as the cream of the crop in the
NFC East
.
Jason Tuck
is
whining about the

Cowboys

trying to buy the

Super Bowl
. Explain exactly how that works, in a hard salary cap enviroment,
Mr. Tuck
? Going to guess that
Tuck
wasn't a scholastic heavyweight at
Notre Dame
...
Carmelo Anthony
says he's going to be more of a leader
this year for the
Denver Nuggets
. Not sure why I find it funny when somebody talks about being a leader, but I do.
Melo
has led for years: at the buffet table...
Marvin Harrison
was
on the field for the

Indianapolis Colts
the first day of camp. What ever happened to that story of his with guys getting shot, guns stashed at car washes he owned, and nary a word from
Harrison
?...
Elite XC
stages another card on
CBS
tonight. No clue who is fighting, but surely it is handled better than the last time out where trigger happy refs repeatedly stopped fights early because it happened to be on network TV in prime time....
Greg Maddux
hasn't won fewer than 13 games since 1987. He sits at 3 this year...talk about a global league: the
English Premier League
has
35% of the players
listing
England
as their country of birth. I find that number low, but that's what national team coach Fabio Capello is advertising...have a great Saturday.