Not a clue what is happening with the
Tennessee Titans
. It appeared they had settled on coach
Jeff Fisher
winning the power struggle with
QB Vince Young
when they announced a few weeks back they'd be looking for another
QB
to lead the team. Turns out they're looking for another coach too, as the
Titans
announced they've parted ways with
Fisher
.
ProFootballTalk looks at what it all means
, beyond
Fisher
pocketing $8 million to not coach.
Does Young come back, or does he go to the Minnesota Vikings
, as has been mentioned? Looking like
Albert Haynesworth
will be able to say he's played for two of the most disfunctional franchises in the
NFL
.
Albert
is a stint in
Oakland
from completing the trifecta.
UFC President Dana White
says if
Anderson Silva
and
Georges St Pierre
win their next two fights,
GSP
will move up to 185 pounds to set up perhaps the biggest fight in
UFC
history, though with the way those two fight on occasion, it might not be the best fight.
If you're watching the
NHL All-Star
draft tonight, you're a loser.
UFC Heavyweight Roy "Big Country" Nelson
has a conspiracy theory
in play for the next season of
The Ultimate Fighter
. He figures that
Brock Lesnar
is on board to boost ratings - nobody said
Nelson
couldn't identify the obvious - but adds that
Lesnar
will walk out half-way through because he's "done" after first giving his opposing coach and next opponent
Junior Dos Santos
, the other coach and his next opponent, a lot more profile in the U.S. He names
Shane Carwin
and
Frank Mir
as replacement coaches. Interesting theory, and with all the "
Lesnar
wants out" talk, could well play out. You can start counting down to a "
Nelson
is an idiot" response from
UFC
boss
Dana White
any minute now.
Might Kirk Muller be the next Toronto Maple Leafs coach?
Sure would be an improvement over the arrogant curmudgeon
Ron Wilson
, no?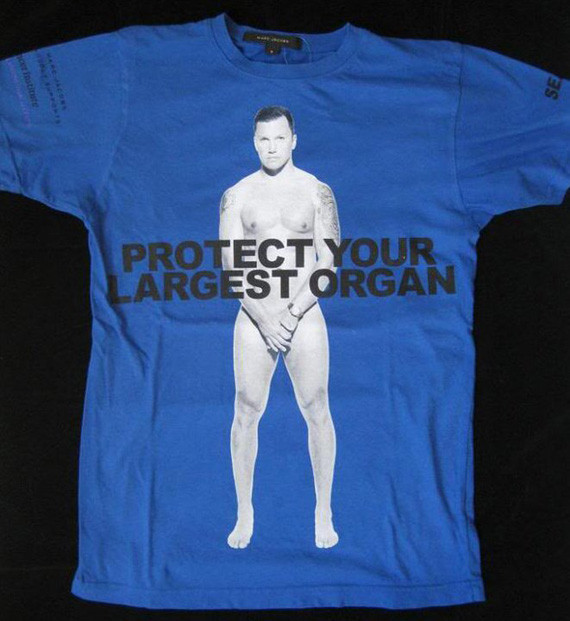 Not sure about you, but I'm pretty bumbed I didn't get this t-shirt of
New York Ranger Sean Avery
under the
Christmas
tree. The shirt is actually part of a series to promote awareness of protecting your skin, and also
features far better options
like
Miranda Kerr, Marisa Miller, Miranda Kerr, Heidi Klum
, and loads more. Oh, and
Miranda Kerr
.
Really dreading this sports weekend, what with the
NFL Pro Bowl
and the
NHL All-Star Game
dominating things. Makes me really anxious to get baseball back on the go. Fortunately, there is tonnes of soccer to fill the weekend, though the
EPL
is in on an
FA Cup
weekend, and maybe some hoops.
With
Roger Federer
and
Rafael Nadal
out at the
Australian Open
, this weekends final will be just the fifth - fifth! -
Slam
since 2004 that someone else has won. Five out of 29. The
Scottish Premier League
thinks that competition has been one sided.
I'm sure the
NHL
will be thrilled to go into its
All-Star Weekend
with
rumors floating that the $100-million sale of the Phoenix Coyotes is about to fall through
. Wind up
Gary Bettman
and watch him spin.
The
Oakland A's
have unveiled a third jersey, and it is gold, or at least gold coloured.
Chelsea
have
put in a bid on
Fernando Torres
of
Liverpool
this week with the transfer window closing at the end of the month.
Liverpool
said thanks, but no thanks. If half the rumors are true,
Chelsea
is chasing every above average striker in the world. Guess they forgot their central defence is super soft.
First
Memphis Grizzly OJ Mayo
gets his face caved in on a team charter after not paying a gambling debt, and then weeks later
he fails a drug test, testing positive for steroids
. He's on the sidelines for 10 games as a result.
Back Monday folks, have a great weekend.
NBA
pre-game, a live mic...and
Tracey Morgan
giving his thoughts on
Sarah Palin
.