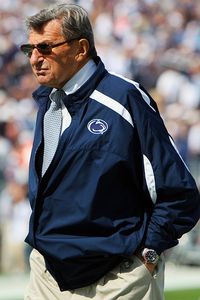 As lame as the "This One Counts!" aspect of the baseball
All Star Game
is, here's an interesting fact. The winning pitcher of this year's game was
Tampa Bay Ray Scott Kazmir
, the loser was
Philadelphia Philly Brad Lidge
. In game 1 of the World Series,
Kazmir
was the loser, and
Lidge
chalked up the save. One difference:
Ryan Howard
was in the
All Star Game
. He's missing and presumed dead this playoff year...want a free wager winner tonight? Bet
Ohio State
at +2 at home against
Penn State
. Yes, I know
Penn State
is scoring 45 a game, but they're not going into the
Shoe
and winning. Tune in to ABC at 8, enjoy Terrelle Pryor going wild.
Bet with

Pinnacle
...
Curt Schilling
took to his blog again to hammer
Manny Ramirez
. Shortly after, he pulled down the more offensive comments but like
Two Girls & One Cup
, once it is out on the internet, it lives forever. Check out the
hard hitting stuff here
from He Who Is An Authority On Everything...big day in
Toronto
today. The annual
Rock, Paper, Scissors World Championship

is on
. As always, I'm pulling for rock...last year, the
Cleveland Browns
averaged 25.1 points per game. Going into tomorrow's game, they're at 15.3...
Australia
,
China
,
England
,
Russia
and the
United States
are
among the bidders
for the 2018 and 2022
World Cup's
...
Isaiah Thomas
overdosed on sleeping pills
? Somewhere,
Kim Etheridge
is trying to calculate how many reasons
Zeke
has to live...
Toronto FC
closes off the regular season with a trip to
San Jose
tonight. A win or loss only hurts their draft position - they have their own pick plus
San Jose's
first rounders - so here's hoping for a draw...
UFC 90
goes tonight and
Canadian Patrick "The Predator" Cote
gets served to the incredible
Anderson "The Spider" Silva
.
Cote
is a 5-1 underdog in this one, and will do well to last two rounds...have a great Saturday.