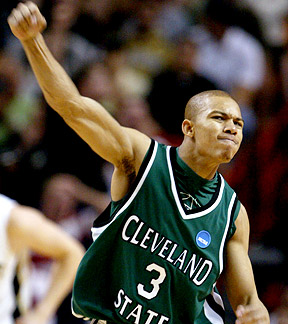 Damn you,
Cleveland State
, for putting the screws to my bracket in knocking off one of my
Final Four
picks in
Wake Forest
last night...
Toronto FC
kickoff their
MLS
season tonight when they visit the
Kansas City Wizards
. Despite what should be a greatly improved team,
TFC
is a +302 underdog tonight. Value personified...a friend of mine ran into
Alexander Ovechkin
and
Alexander Semin
on the felt at a casino in
Tampa Bay
on Thursday night. Sadly, nobody knew who the purported face of the
NHL
- along with
Sidney Crosby
- was.
Gary Bettman
thinks the southern markets are worth saving? Word is
Ovechkin
couldn't have been more down to earth. That, and he's a large fan of
Corona
...the
World Baseball Classic
semis go this weekend, with
Korea
facing
Venezuela
tonight and the
U.S.
taking on
Japan
tomorrow night. Should be good stuff...
Miika Kiprusoff
and
Martin Brodeur
both needed 347 games to get their 200th win. Somehow, can't imagine
Kiprusoff
coming anywhere close to
Brodeur's
career totals when all is said and done...starting a new feature at
RM
that will appear periodically. It is simply entitled
"People I Hate"
. In the opening installment, I give you
People Who Wear Sunglasses Indoors
. That only works for rock stars, folks. So to the clowns I see rocking their $12 gas station shades wherever, take them off, you loser. It'll stop me from rolling my eyes at your pretentiousness...playing
Washington
-1 today over
Purdue
. And
TFC
of course, though only the former counts for PTP now that we're all caught up, and
Manchester United
on the goal line - so much action!...have a great Saturday.