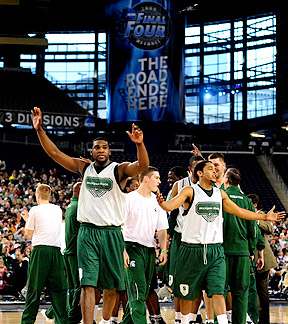 As ideas go, the idea of dropping a basketball court into the very middle of a domed football stadium is not a great one. Expect a very poor atmosphere tonight at
Ford Field
for the
Final Four
. Pretty sad when you've got to spend good money to essentially watch the game on a big screen because you're so far away you can't see a thing on the court. I'm liking
UConn
and
UNC
to emerge victorious and set up the final match-up Monday, though
Michigan State
is essentially playing at home and could punk
UConn
...at the opposite end of atmosphere will be
BMO Field
today for the home debut for 2009 of the undefeated
Toronto FC
as they face the expansion - and very good -
Seattle Sounders FC
. The
Sounders
have opened at 2-0 but won't have their 21-year old
Columbian
scoring ace
Fredy Montero
, who not only has been
accused of sexual assault in the last week, but also stalking
. I'm counting on
TFC
to go back to
Fortress BMO
form and win this one.
Montero's
might not ever visit
Toronto
. Word is
Juventus
is hot on his trail which means there are surely other squads chasing. If you're attending, drop by the beer vendors around Section 114 pre-game and at the half.
Mango
is thirsty!...the
New York Giants
have cut

Plaxico Burress
. Only question is what took them so long? It's been over four months since he took target practice on himself...it only took a couple days since he was cut by the
Detroit Tigers
, but
Gary Sheffield
is
now a

New York Met
. I haven't read much about
CitiField
but presumably the outfield is a lot smaller than the mammoth one that was at
Shea Stadium
. Don't think you'd want that butcher in a large outfield...it was only an exhibition game, but the
New York Yankees
and
Mets
both
won their openers
last night in their new digs...if you're gonna lose, lose big, and that's what the
Cleveland Cavs
did in last night's PTP, getting crushed by the
Orlando Magic
. In other wagers, won my first ever golf wager as I took
Anthony Kim
(+120) to beat
Ernie Els
in the first round of the
Houston Open
, completed yesterday. Today, we're playing Chelsea -.5 -1 +106 to ruin
Alan Shearer's
debut as manager of
Newcastle United
. That's solid value for a team that has to win to stay in the race against a team that, well, isn't good...that's all I've got today, time to bust open a beer shortly for
TFC
prep. So freaking jacked!!