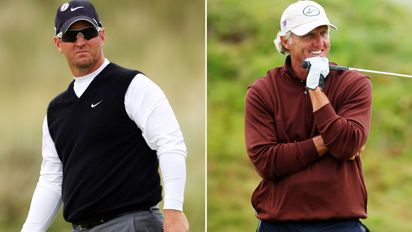 With the
MLS
standings being as tight as they are, today's game at
BMO Field
where
TFC
face
San Jose
qualifies as a "must win" game, especially when
San Jose's
first round pick next year is held by
TFC
and right now, is the first pick overall. I expect three points for
TFC
, or a bloodbath in the stands if not. Kickoff is 3pm (Eastern) on CBC...couple big
MMA
cards on the go tonight. For my money, I'll take watching
Anderson Silva
and the
UFC
free on
Spike/SportsNet
over any fight with that bore
Tim Sylvia
in the
Donald Trump
backed
Affliction
promotion...if
Greg Norman
and
David Duval
are near the top of the
British Open
leaderboard, what year is it?...
Richie Sexson
has joined the
Yankees
to give them some badly needed help against lefties. Look at
his numbers pre and post drug testing
. Just sayin'...proof there are two fools born a minute: the
St. Louis Blues
signed former
Leaf
stiff
Andy Wozniewski
...
Adam Dunn
of the
Cincinnati Reds
has 6 homers in 9 games. Imagine what he'd do if he cared about playing. And yes, that is sarcasm...
not one call has been made
by other teams inquiring about
A.J. Burnett
, if you believe
J.P. Ritardi
. Memo to
J.P.
: those looking to sell are occasionally proactive to make it happen...
Leo Rautins
job as Canada's hoops boss is
under review
. Be sure to thank a
Croatian
today for that with a cold brew. Or just click some ad banners throughout the day...
harsh words about the

BMO Field
turf, and practicing on it in particular, from former
TFCer Ronnie O'Brien
, and almost
TFCer Darren Huckerby
...have a great Saturday.