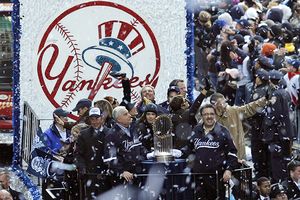 The
English Premier League
hilites the morning sporting action today, and there isn't much in the way of marquee matchups, until you hit tomorrow's battle between the top two as
Manchester United
visit
Chelsea
. For the wagering set,
Arsenal
and
Tottenham
should be easy money today.
Good luck figuring out the
Toronto Raptors
. One Friday night they get throttled by the
Memphis Grizzlies
, the next they
go out on the road and crush the

New Orleans Hornets
107-90. Once this
Jekyll and Hyde
squad figures out how to consistently play defence, they might be onto something. Of course, that'll mean less of
Jose Calderon
on the floor for starters. After all, he is to defence what crack is to celibacy.
In the
NCAA
today, the big ones to watch out for are (#11)
Penn State
taking on (#16)
Ohio State
at 3:30 today, and kicking off at the same time are
(#9)

LSU

visiting (#3)

Alabama
. Geaux
Tigers
!
What was a bigger lock -
Manny Ramirez
activating his $20 million player option
with the
LA Dodgers
, or the
Philadelphia Phillies
exercising their $9 million option with
Cliff Lee
?

Joel Sherman
from the
New York Post
figures that the
Yankees
are very likely to be quiet on the free agent market this off-season - so no
Matt Holliday
(good),
Jason Bay
(good) or
John Lackey
(am torn) - though he hints they could dive into trade talks for a
Roy Halladay
or
Felix Hernandez
if and when those come up.
Strikeforce
are bringing their meal ticket -
Fedor Emelianenko

- to prime time television tonight
when he faces the undefeated
Brett Rogers
on
CBS
. Rogers has won his last 10 by knock out and it'll be interesting to see if he can challenge the seemingly invincible
Emelianenko
.
Of course, if a rival
MMA
organization is going to get some spotlight, you have to expect
Dana White
and
UFC
to do something to remind everyone who the best in the business are, so of course, the UFC is airing some great recent fights on
Spike TV
free of charge. If you haven't seen the
Randy Couture
vs.
'Minotauro' Nogueira
fight from
UFC 102
, tonight is your chance to catch it for free. This one is fight-of-the-year territory so check it out. Also shown tonight are previous fights from
Kenny Florian
vs.
BJ Penn
,
Anderson Silva's
demolition of
Forrest Griffin
, and
Rich Franklin
taking on
Vitor Balfort
.
In other
MMA
news, there are rumors that
Dan Henderson
has
left the

UFC

and signed with

Strikeforce
, a move
UFC
boss
Dana White
said would only expedite the demise of Strikeforce because of what they're paying
Fedor Emelianenko
and now
Hendo
.
White
said the move is "1000%" done.
6
NHL
games last night, only two had more than five goals scored.
For all those that said he wouldn't, because he couldn't get it done in the post-season, safe to say
Alex Rodriguez
has put the "not clutch" thing to bed. Virtually every hit the
Yankees
needed through their entire run was delivered by #13 and he's no doubt the playoff MVP if they gave out such a thing. His 68 at bats with 6 homers and 18 RBI would project to 49 HR and 145 RBI over a 550 at bat regular season.
Only 95 days til pitchers and catchers report.
Have a great Saturday!