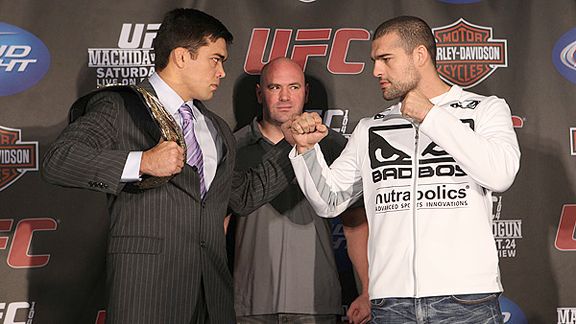 It'll be tough to think of a bigger sporting day than today, at least as far as this fan is concerned. Here we go with today's RM:
At 7:30pm on
GolTV
,
Toronto FC
travel to
New York
to face the
Red Bulls
in a win-and-you-could-well-be-in game tonight. Of course, there are a couple games that impact as well later in the night, but if things happen as they should,
TFC
could well be fixin' for a playoff game, likely next Saturday, and what a day that would be at B
MO Field
. Here's the
preview from the good folks at

Red Nation

,
who have
TFC
pencilled in as 2-0 victors.
At 7:57pm on
SportsNet
, the first pitch in Game 6 of the
ALCS
will fly at
Yankee Stadium
in
The Bronx
and while it is an elimination game for the
Anaheim Angels
, there is plenty of pressure on the
Yanks
as if they go to a Game 7 and win, that pushes ace
CC Sabathia
to starting Game 2 and only a pair in the
World Series
, a vastly different proposition than if he's in for three games potentially if they win tonight. My head and heart tell me that
Andy Pettitte
gets the job done at home.
And starting at 10pm,
UFC 104
gets under way.
Lyoto Machida
faces
Shogun Rua
in the main event, and methinks
Rua
will be disposed of in short order. Something tells me that
Joe Stevenson
and
Spencer Fisher
will steal the show in their fight, probably because neither is shy about attacking even at the expense of eating a few punches, kicks or otherwise.
Check out the entire card here.
Former
Washington Redskins
running back and
Super Bowl
legend
John Riggins
is following up his verbal beatdown of the organization last week by
blaming the "state of decay" of the squad on owner

Daniel Snyder

.
Gee, ya think? The
NFL's
best team every march has continually struggled to function come September and on, but thanks for stating the obvious
J.R.
It's almost
NBA
season - and didn't that sneak up on us? - so why not a peak at the
Top 10 NBA WAG's.
Philadelphia Phillies
fans celebrated their
NLCS
win by having
49 arrested in post-victory celebrations.
If that's what they did after the
NLCS
, it could get real interesting if they win the World Series.
A six game
EPL
card goes today with very few sexy matchups on the schedule today. Tomorrow, however, sees old rivals
Liverpool
visit
Manchester United
. Both teams have piles of injuries:
Liverpool
is down
Steven Gerrard
and
Fernando Torres
while
United
is likely minus
Wayne Rooney
.
United
should have more than enough to dominate that shoddy
Liverpool
back line, especially at home.
The
Vancouver Canucks
are in
Toronto
to try to keep the
Maple Leafs
winless streak rolling. The
Leafs
are the lone
NHL
side without a win.
Have a great Saturday.