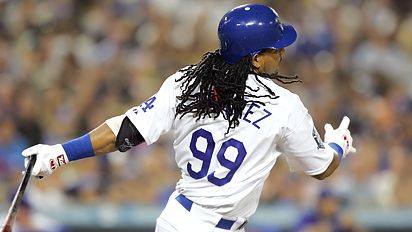 Something about anyone wearing #99 bothers me. It bothers me more when the guy wearing it is in
L.A
...
UFC
fighter
Roger Huerta
, who I don't think has ever had a dull fight, is on the record complaining about how he and his fellow fighters are compensated in
UFC
.
Dana White
could have a serious problem on his hands when one of his
best young fighters is rocking the boat
...the very reasonably priced lobster sub is back at
SubWay
. A footlong can be had for a mere $16.99...the
Toronto Maple Leafs
may ship
Pavel Kubina

to

Ottawa

for

Antoine Vermette
...
Paul Pierce
has declared himself the
best player in the world
. Memo to
Pierce
: No.
Kobe
,
Lebron
, the list goes on...in a week, the
Olympics
will be rolling, which means we're only 8 days from the inevitable "When Will
Canada
Medal?" headlines grabbing papers coast to coast...seriously, as great as
Mariano Rivera
is in a save situation, he's terrible this year when the game is tied. The
Yankees
lost another that he came in with the game tied in
...the
L.A. Angels
continued their dominance of the
AL East
, winning their 8th straight over
Boston
(6-0) and
New York
(2-0)...the NFL pre-season...August 1st came and went and no announcement from
Mats Sundin
, despite that being the alleged date he'd decide if he's playing or not. Surprised? Me neither...have a great Saturday.