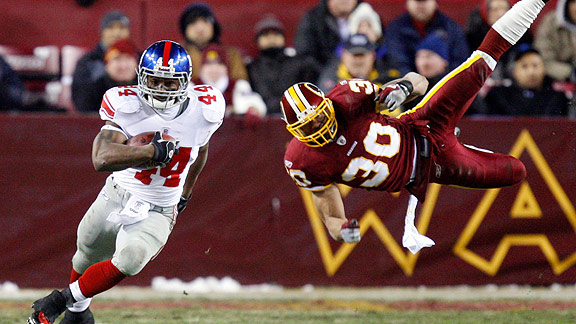 The
New York Giants
thrust themselves back into the playoff picture
with a thorough dismantling of the
Washington Redskins
last night, 45-12. Wonder if
Mike Shanahan
is backing away from the negotiating table after that one?
Johnny Damon
hosted
Monday Night Raw
last night. Guess that's the best deal his agent
Scott Boras
could swing him after overplaying his hand thinking he'd pull another four year deal out of the
New York Yankees
and they moved on. Don't want to crack on
Damon
too badly - he'll always be one of my fav players.
You know what's annoying? Those half page ads that newspapers have covering half of the front page. Just check out the
Toronto Star
someday. Lame.
I get that in the
NBA
that rallies happen, but they shouldn't happen if you're up 35 in the third quarter no matter who you are and no matter who you're playing. But, the
Chicago Bulls
went and
blew such a lead last night
- at home! - to that powerhouse known as the
Sacramento Kings
.
In a blast from the past, the
Yankees
are about to add another workhorse to their rotation, allegedly
dealing - again - for

Javier Vazquez
, a guy I long ago said they never should've dealt when they decided to keep that plank
Kevin Brown
over
J.V.
There is also talk of
Josh Johnson
in the mix, who would be about my fav
Christmas
present this year. Not sure how much you all follow the
Florida Marlins
, but
Johnson
is a man.
Frequent contributor
T.S.
responded to my query as to why
Derek Jeter
wasn't at
Curtis Granderson's
presser but
A-Rod
and
CC Sabathia
were by saying they couldn't or wouldn't accommodate his schedule. My reply: the
Yankees
know who really carries the freight.
Check out
Hannah Storm
whoring it up
. Cougariffic.
If you're wondering, yes, RM will be going straight through the holiday season, occasionally impeded by hangovers or family proceedings, but will definitely be up daily.
Back tomorrow, have a great Tuesday.