What a surreal night it was last night. In the middle of the
Philadelphia Phillies
hosting the
New York Mets
on
Sunday Night Baseball
, you could tells something was going on in the crowd from the buzz and all the
Blackberries
and
iPhones
out and a sudden chant of
"USA"
errupting. Jump to
Twitter
and it was there for all to see, word was that the
U.S.
had finally tracked down
Osama Bin Laden
...with a bullet to the head.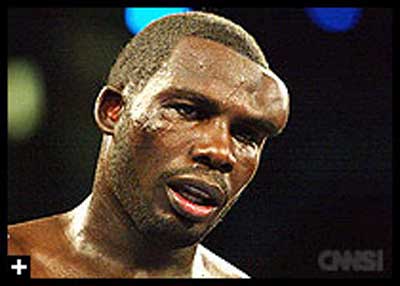 I now know what
Georges St. Pierre
meant when he said "don't blink" at the pre-fight weight-in for his title match with
Jake Shields
in front of over 55,000 at a rocking
Rogers Centre
(and when was the last time you could say that?).
GSZzzzzzzz
ground out another snoozer of a win that was effective, but not overly entertaining, especially when it followed an incredibly gutsy performance from
Mark Hominick
in his decision loss to
Jose Aldo
.
Hominick
had a ridiculous lump -
Hasim Rahman
style (above at right) - on his skull (below at right), bought fought through and dominated the final round, even looking like he might win it. Overall, a fantastic card and event in
Toronto
, hurt only by a dull main event. Maybe we get
Anderson Silva
and
GSP
on January 1st in
Toronto
?
Two calendar months ago,
Chelsea
was 15 points behind
Manchester United
. After yesterday's 1-0 loss at
Arsenal, United's
lead is now down to three points with the two playing in
Manchester
this coming
Sunday
in a game that should decide the championship with just three games left to play.
The
Minnesota Twins
and
Chicago White Sox
are behind the
Cleveland Indians
by 10 games in the
AL Central
. The
Tribe
are an
MLB
best 19-8.
The
Tampa Bay Lightning
took their second game in
Washington
to open up that series against the top seeded
Caps
, who are shooting plenty, but scoring little, by a 3-2 overtime score. Also yesterday, the
San Jose Sharks
- who are getting that "destiny" look about them - downed the
Detroit Red Wings
2-1 to lead that series 2-0. Didn't figure on the
Boston Bruins
hammering the
Philadelphia Flyers
7-3 in their series opener on Saturday. The other series sits at 1-1 after the
Nashville Preds
downed the
Vancouver Canucks
2-1 in overtime.
Boston Celtics
: don't let me down like that again. Beat the
Heat
.
Going back to
August
of last year,
New York Yankee Derek Jeter
is now at 310 at-bats since his last home run.
Jeter's
and the
Yankees
took two of three from the
Toronto Blue Jays
this weekend. After watching
Kyle Drabek's
start on Saturday, and wondering for a time why a pitcher wears #4, it came clear: 38 balls in 78 pitches.
Pittsburgh Penguin Sidney Crosby
hasn't played since January, and
had a set-back
that has him fearing he won't be ready for the start of the next
NHL
season. That is real, real bad news for the
NHL
.
Bruce Arthur at the National Post might want to update this piece
he wrote after
Crosby
had been out two months on how afraid the
NHL
should be.
It is election day in
Canada
today and remember: if you don't vote, don't bitch.
The perils of pissing in a
Boston
washroom while wearing a
Montreal Canadiens
shirt.
John Cena
,
WWE
champion, let the crowd know after a pay-per-view win last night that
Osama bin Laden
had been caught and "compromised to a permanent end".