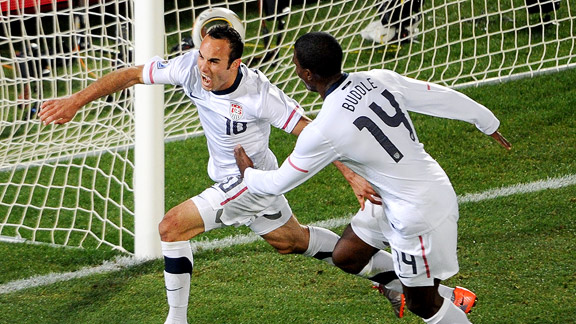 It took 90 full minutes and a few second before the U.S. finally cracked
Algeria
for a huge 1-0 win when
Landon Donovan
pounced on a rebound to score a goal that not only sees the
U.S.
advance from
Group C
but also do so as the top seed thanks to
England
only winning by 1-0 over
Slovenia
as well. And to think somebody here scoffed that the
U.S.
were sh!t a month or so back when I suggested they're a team for neutral's to get behind. I'll update that now: if you don't like that team, you don't like sports. What a moment for the
Americans
. In
Group D
play,
Germany
were narrow 1-0 winners and hardly impressive, while
Australia
knocked
Serbia
out of the tourney and almost put themselves through to the next round, but fell a couple goals short in a 2-1 win. The
U.S.
will face
Ghana
on Saturday at 2:30pm while
Germany
will face
England
on Sunday at 10am. Several potential big
European
match-ups coming in the round of 16 as we may also see
Holland
face
Italy
, and
Spain
face
Portugal
depending how things pan out the next couple days.
Group F
gets sorted out today and seems almost impossible to imagine that
Italy
and
Paraguay
don't go through as the top seeds. What is surprising is that it is likely to be in that order, which would almost certainly set up and
Italian
matchup with
Holland
as Group E leader. Second place in
Group E
will be sorted out between
Denmark
and
Japan
. Does it just feel like it has been the best week in a tourney ever, or is that just me?
At
Wimbledon
,
John Isner
and
Nicolas Mahut
played
are playing the longest match in tennis history, at 8 hours and change - and counting! The match is at an incredible 59-59 score in the fifth and deciding set, and is going into a third day after it was suspended due to darkness yesterday. The match breaks the previous record of 6 hours, 33 minutes set in a 2004
French Open
match. Didn't see it? Don't care? Then
maybe you'll want to see the Top 20 Hottest Women Player's At Wimbledon.
A
bunch of NBA teams have new logos
, with the
Golden State Warriors
being the most dramatic, and the
Orlando Magic
mercifully retiring that hideous font they had for "Magic".
Argentina's Lionel Messi
is
lobbying to have Oasis play the Argentine victory party
should his team go the distance. Problem is they're currently broken up, though Messi offers that they can just "name [their] price".
The
NBA
draft goes tonight. I for one will be avoiding it, and most NBA news, to stay away from the overdone LeBron James hype.
Really, enough of the
Roger Milla Coke
commercials already.
I was tempted to make this the lone piece today, but figured there was too much stuff to mention to not, but here it is to close again,
Landon Donovan's
clutch goal for the
U.S.
against
Algeria
. The goose bumps are yours free of charge.