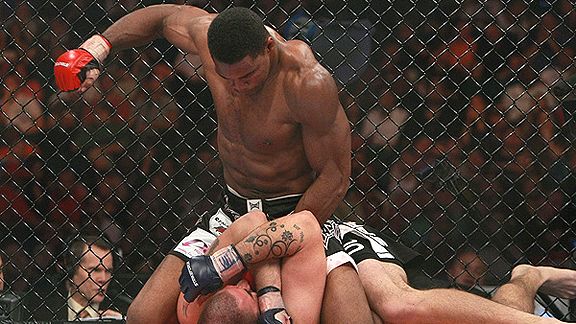 The big game of the
English Premier League
weekend sees
Manchester United
visiting
London
today where they'll take on
Arsenal
in a huge game for both sides. The winner will have second place with room to breathe, the loser will have a mountain to climb if they're to take the championship in the end. Check it out on
The Score
at 11am, in glorious high definition.
Terrell Owens
rightly won the
NFL
receiver of the decade title at
USA Today
, and left no doubt that he thinks he'd be tops in all numbers - yes, ahead of Jerry Rice - if not for
a career dealing with some substandard QB's
. Not sure how you win that award by yourself, but apparently
T.O.
thinks he did. The
rest of the all-decade by position series can be viewed here
.
The less said about the
Pro Bowl
today, the better. We'll leave it at that.
With the
Vancouver 2010 Olympics
less than two weeks away, here's a look at
25 hot

Olympians

to keep an eye out for.
Yes, they're all female.
If you're ever in a pinch and need to
chill a beer in 30 seconds
, here's how to do it. You're welcome.
So if only 19 of the 53 men on the
New Orleans Saints
roster are home grown, why is it nobody is saying they "bought" their way to the
Super Bowl
?
Former
NFLer Herschel Walker
made his
MMA
debut yesterday at age 47, and
emerged a winner.
Said
Sports Pickle
: Nice win,
Herschel Walker. Strikeforce
will now trade you for the future
Emmitt Smith, D.Woodson
and
R.Maryland
of
MMA
.
Roger Federer
won his 16th career major in a
straight sets win over

Andy Murray
. Bonus points to
RF
for talking smack of how
Great Britain
hasn't produced a champion in 150,000 years, and saying his losses to the all-defence
Murray
were more about him losing than
Murray
winning. Brilliant!
Great videos here of the
top 10 most outrageous sports calls
.
There are three groups in the running to buy the
St. Louis Rams
, and
one is said to be from

Toronto

.
Interesting.
Check out these championship rings
, starting with
Sidney Crosby's Stanley Cup
winning ring from last season.
Baseball Prospectus
has run its
annual projections of what each team will do
and there are some interesting developments in the
AL West
and the
NL East
especially. Projected worst in the
AL
and second last in all of baseball?
Toronto
.
Have a great Sunday.