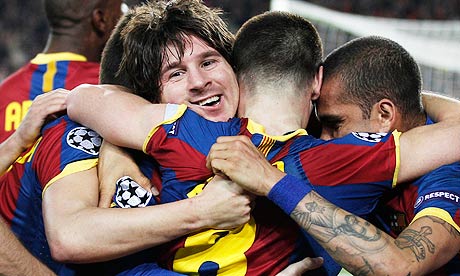 Arsenal
sit second in the
English Premier League
, and are by anybody's measure more than a decent team. But when you go into
Barcelona
and 110,000 fans are waiting and the host team is on its game,
you get what happened yesterday: a 3-1 whitewash
that saw the hosts win the possession battle 74%-26%, fired 20 shots to
Arsenal's
zero (yes, "0"), and completed 717 passes to
Arsenal's
195 for the game. Domination.
Lionel Messi
scored a pair, and the
first it looked like he made the ball levitate in the air before stabbing it home
. Incredible stuff from
Barca
. If you don't appreciate what they do, you don't appreciate sports. You could argue that
Robin Van Persie's
red card with the score just turned 1-1 was a game changer, and it was as weak as it gets, but that's the position you put yourself in when you take a ridiculously selfish card late in the first half the way he did, but it really only expedited the inevitable final result.
RVP was not impressed, not surprisingly.
In the other game,
AS Roma
barely showed up in their 3-0 loss at
Shaktar Donetsk
, who advance to the quarters for the first time. Up today,
AC Milan
visits
Tottenham
, and I'm banging the hosts at
Pinnacle
even though they don't necessarily have to win to advance.
FC Shalke
hosts
Valencia
in the other game, slight lean to the home side. Both games kick off at 2:45pm.
Bruce Arthur
at
The National Post
looks at the winds of change that have hit Mike Milbury
with regard to fighting in the
NHL
.
Tie Domi isn't willing to talk about his thoughts on fighting
. This came after he was spoon fed apple sauce and had his drool wiped up. Only some of that is true.
The
San Antonio Spurs
have won 60+ games in the
NBA
season again, their - wait for it - 12th straight year knocking out 60+.
The
Miami Heat
lost again last night, which can only mean that quoting one
LeBron James
from
Twitter
back in December is more and more prophetic as it turns out and maybe not the dig at the
Cleveland Cavaliers
it was first thought to be, from @KingJames: "Crazy. Karma is a bitch. Gets you every time. Not good to wish bad on anybody. God sees everything!" Perhaps somewhat inspired by
"DidTheCavsLoseLastNight.com"
that gained traction in
December
comes
"DidTheHeatCryLastNight.com"
.
The
NHL's
best second half win percentage in history was registered by the 1979-1980
Montreal Canadiens
who were on a .813 clip that year. That makes this year's
New Jersey Devils
.875 rip this year all the more impressive.
ESPN Radio
host
Colin Cowherd
has his annual
"March Madness"
of his own up, and this year's subject is for
Best Rock Band
.
Get your votes in here
for the first round. How the hell did
Creed
and
Nickelback
get in as a 16 seeds and the
Foo Figthters
aren't even in the tournament? Criminal. Looks like
Bob Marley & The Wailers
vs.
Beastie Boys
is the tightest race so far.
I'm not saying for a fact the two are linked, but back in January,
Montreal Canadien Max Pacioretty
scored an OT goal to beat
Boston
, and
Zdeno Chara
was none too happy.
So last night, in the rematch, here's what happens to
Max Pacioretty
when he comes near
Zdeno Chara
. He was stretchered off and taken to hospital. Said
Chara
post-game: "Unfortunate when I pushed him that he leaned and jumped a little into the glass extension," which brought this fantastic response from the
National Post's Bruce Artur
, fast becoming a fav of mine: "That's an effing joke.
Zdeno
, that's like effing saying that [the late
Georgian
luger]
Nodar Kumnaritashvili
leaned into the goddamn stanchion at
Whistler
. Jesus Christ." Seems hard to believe
Chara
would be completely oblivious to where he was heading, no?