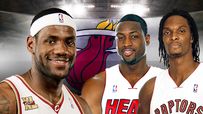 The best part about
LeJudas
announcement yesterday, other than the world now knows and can move on from the tedium of
LeBrett
updates?
The letter to Cleveland Cavalier fans from owner Dan Gilbert
, in which he annihilates
LeDouche
. Another report had
Gilbert
calling him LeQuitter for his playoff performance against Boston
. Amazing stuff. As for his bit about promising the
Cavs
win a championship before the
Heat
do, is there a fan anywhere - other than
Miami Heat
fans, of course - that doesn't hope it works out that way? Suddenly, the
Cavs
are everyone's fav second team.
Miami reporter
Dan LeBatard
looks at how the deal came together and
credits Dwayne Wade with brokering the deal
and allowing the
Heat
to work around tampering rules. We'll see if things work so smoothly come their first playoff series when they get pushed.
I'm not sure how many rings the
Heat
will win, but they're definitely in the early lead for most knee braces on under-30 players. Have fun with that. "Paging
Dr. Andrews
..."
Chin up,
New Yorkers
. Your fine city and horrible hoops squad may not have signed
LeBron James
, and saw
David Lee
skip off to the
Golden State Warriors
of all teams, but at least your
Yankees are getting another Lee in town
by all indications, perhaps in time to see him start for you tonight instead of against you.
Cleveland Cavalier
season ticket holders have their money in for 2010/2011. Wonder if they're at all angry now? Funny that Gilbert neglected to mention that bit in his bombs he delivered last night. And speaking of ticket sales: good luck with that,
Toronto Raptors
.
Memo to the Toronto Blue Jays
: you're no longer the worst draw in town real soon.
The Globe & Mail
looks at the battle between
Nike
and
Adidas
for soccer supremacy.
Very classy of
Brazilian
soccer legend
Ronaldo
- the fat one, not the
Portuguese
pretty boy - to warn current
Brazilian
national team member
Felipe Melo
that
he might not want to vacation in Brazil
after scoring an own goal in
Brazil's
elimination at the hands of
Holland
last week. Don't recall anyone warning
Ronaldo
after his famous meltdown before the 1998 final against
France
in which he then played like a zombie.
The last time so much talent got together on one team to grab a ring was the
2003-04 LA Lakers with Gary Payton, Karl Malone, Kobe Bryant and Shaquille O'Neill all together, and we know how that turned out.
Should Holland win the World Cup on Sunday, that would complete one hell of a season for midfielder, and Manchester United target, Wesley Sneijder. He's already won the Italian league with Inter Milan, captured the Champions League there as well, and is now on the verge of the ultimate prize. Not bad for a guy who along with teammate Arjen Robben, was deemed expendable by Real Madrid just a year ago.
I normally don't reference things that appear in the message side of the blog, but had this one saved up from Bill Simmons after yesterday's edition (later referenced by BigHeadedJerk) and it is well worth a read even today, after we know where LeBron James ended up. Bonus points to The Sports Guy for crushing the notion that Chris Bosh is a superstar.
Finally today, check out the World's Largest Skateboard. Amazing.