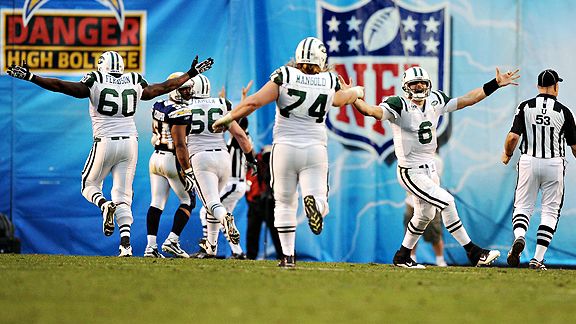 Pretty obvious why I went with that as the picture of the day, no? If not, check out #74's name and the title above.
What a beatdown in
Minnesota
yesterday. The
Dallas
offensive line was as stout as
Haitian
architecture and it is a wonder
Tony Romo
is able to walk after that pounding. After three solid but ultimately wasted drives for the
Cowboys
to open the game, it was all
Vikes
the rest of the way and a 34-3 final. Personal hell for this hater of #4. Here's hoping the
New Orleans
Saints
save the day next weekend.
Jim Nantzzzzz, Phil Simmszzzzz, Mark Sanchezzzzz
and
Phillip Riverszzzzz
conspired for a very dull game in
San Diego
for the most part, though the end result that saw the
New York Jets
win 17-14 is sure a stunner, until you remember that it is the
San Diego Chargers
and playoff flameouts are synonymous with them. Pretty sure that
LaDanian Tomlinson's
days as a
Bolt
are done and he'll have to take his
Electric Glide
elsewhere.
Norv Turner
and
Wade Phillips
, as losers of the games yesterday, will go on to coach the
Pro Bowl
on January 31st. What are the odds both are unemployed by then? Pretty fair chance, no?
Both championship games next weekend will be played in domes. Lame.
The
AHL
all-star "Classic" goes the next two nights on
TSN
. Two? As if all-star games weren't joke enough,
two
nights for a minor league all-star game? What's the
MVP
get, best seat on the bus for his team the rest of the year?
If you haven't seen this goal from the
East Coast Hockey League
, prepare to
see the best goal you'll see this year, if not ever.
Pure artistry on the ice.
I don't "believe" that the "Believe"
Olympic
ads are overexposed, I know it. Enough already. And how many people do you figure blew by the front page of the
Toronto Star's Sports
section this morning with figure skating and snow boarding getting the entire page?
Did I read right, a 22-point win for the
Toronto Raptors
over the
Dallas Mavericks
? Can't be true, can it? Bad day for Dallas in multiple sports.
Have a great Monday.