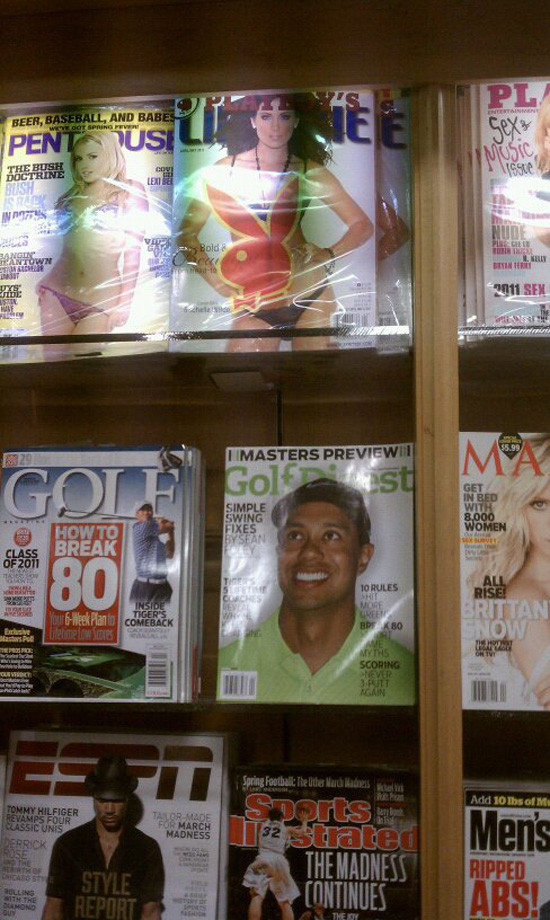 Oh that
Tiger Woods
, back up to his old tricks.
Euro 2012
qualifying resumes today with...am I the only one
underwhelmed by these match-ups?
A
Todd Bertuzzi
flying tricep that got the
Detroit Red Wing
booted last night resulted in
Ryan Johnson
needing part of his ear being sewed back on. Eeew.
Video here
. Love
Mike Johnson
at
TSN
taking up for him in an abuse of the language. The suggestion his previous "one off's" shouldn't be a frame of reference for this discussion. Right, and a guy busted for drunk driving once shouldn't have a drunken brawl brought up from year's back. Please.
Forbes
magazine has published a report on TV revenues in baseball and reported that the
New York Yankees
TV network produced $400 million in revenue last year. By way of comparison, the
Texas Rangers
signed one of the best deals - said to be top two or three in the game - that sees them pull $75 million a year.
Start your clock on
Andrea Bargnani's
time as a
Toronto Raptor
.
The end is near, and not a moment too soon.
The
spring training home of Tampa Bay Rays Evan Longoria, David Price and Reid Brignac was robbed
of around $56,000 in cash and goods, including
Longoria's AK-47
. Who hasn't had their
AK
ripped?
Joel Sherman
puts forth a pretty compelling argument that
CC Sabathia might be the best Yankee free agent signing ever.
My fantasy squad sure hopes he continues on that path. Sabathia will have a hell of a gun pointed at the
Yankees
heads when he opts out of his contract after this season.
The
Florida Marlins
will cease to exist after this season,
coming back in 2012 as the Miami Marlins.
Early yesterday, a poll at the
Toronto Star
had 35% of the 7,000 or so voters picking the
Toronto Blue Jays
to win the
AL East
this year. Still a whole lot of suckers out there, it seems.
Stay classy,
Gregg
Zaun
.
One guy you might not be seeing on
Hard Knocks
if indeed it covers the
Tampa Bay Bucs
is cornerback
Aqib Talib
.
Allegations of pistol whipping your sisters boyfriend and then firing shots at him as he fled on foot
tend to be bad for the image, if we know
Roger Goodell
in the least. Not to mention what
John Q. Law
thinks.