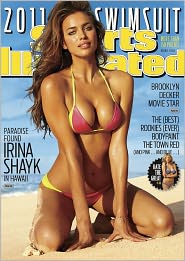 Irina Shayk
, who is also the girlfriend of Real Madrid star
Cristiano Ronaldo
, graces the cover of the
SI Swimsuit
issue. Another reason to hate
Ronaldo
, if you're so inclined. All kinds of
Swimsuit goodness here.
Champions League
play yesterday saw a couple good results for the road teams. As predicted here,
Tottenham downed AC Milan, 1-0,
in a game where
Milan's Gennaro Gattuso
went insane post-game and grabbed
Spurs
assistant coach
Joe Jordan
and head-butted him. Nice knowing you,
GG
.
Valencia
were held to a draw at home with
German
side
Schalke
. Up today are a nice pair of matches in
Shaktar Donetsk
visiting
AS Roma
, and a gem in
London
with Arsenal hosting
Barcelona
, a game that
Gunners midfielder Jack Wilshere says Arsenal will need to get "nasty".
I'm betting
Barca
win on the road here.
Any thoughts on the news that
OJ Simpson was severely beaten - into unconciousness - by a skinhead while in prison
, and suffered injuries that kept him in the infrimary for three weeks? Seems to confirm karma exists. Except
his lawyer says it didn't happen.
Baseball trivia: Only one team has two starting pitchers with 100 starts combined over the past three years. Name team and the 2 pitchers. Answer at bottom.
Says one
Twitterite
for
Chris Bosh
' visit to
Toronto
tonight: "Don't boo
Chris Bosh
tomorrow, take the piss. Example: 'You're not even Robin. Not eveeen Robiiin.'" because he's not even second fiddle. Love it. For those wondering if
Bosh
gets booed tonight, let me assure you, he most certainly does.
Steve Simmons at the Toronto Sun looks at Bosh years as a Raptor
and concludes few had a better run in
Toronto
.
Very classy of
Carolina Panthers
owner
Jerry Richardson
to ask
Peyton Manning
if he needed help reading the financial reports during a
CBA
bargaining session. I'm no fan of
Manning
, but he's put a lot more money in owners pockets than
Richardson
has. That was just one of the
insults thrown at the players, Drew Brees included, by Richardson.
Looks terrible if you're wanting a full, non-scab
NFL
season, but I maintain they get a deal done.
NFL Commissioner Roger Goodell
says
"the time has come" to get a deal done.
Bruce Arthur
at the
National Post
says
it would be a mistake for the Toronto Blue Jays and Jose Bautista to work a long term deal right now
.
Toronto Maple Leafs GM Brian Burke
is not done dealing, with talk of Tomas Kaberle being next to bolt the 416,
with
Boston
said to be the destination. I'd love to see the
Leafs
get the #1 this year they traded for
Phil Kessel
back and go into the biggest tank job of all time down the stretch only to lose the lottery and get the, like, 4th pick.
Suspended
UFC
middleweight
Chael Sonnen
- and hands down the best trash talker anywhere in any sport -
says he's 5-1 against UFC Champion Anderson Silva.
The best
Toronto
acquisition, any sport:
Dan Shulman is back at TSN
.
If you don't listen to
Bill Simmons (The Sports Guy)
and his podcasts, here's
a wrap-up of his annual chat with NBA Commissioner David Stern
, in which
Stern
mentions that
Vancouver
is among the cities looking to move the
New Orleans Hornets
. As luck would have it, the
owner of the Vancouver Canucks
is interested. Here's a thought for
Stern:
if he is interested in fixing the mistakes made in leaving
Seattle
and
Vancouver
, send the
Hornets
to one, and the other can have the disaster area known as the
Toronto Raptors.
Trivia answer:
New York Yankees CC Sabathia
and - believe it or not -
AJ Burnett
, are the two to start 100+ games over the last three years.
CC
credits a 30 pound weight loss to not eating
Cap'n Crunch
every day. Guess
Joba Chamberlain
was getting down with the
Cap'n
at least every other day?
Speaking of
Sabathia
. Let there be no doubt he will opt out of his
Yankee
deal at the end of this season, knowing the
Bronx Bombers
have money to spend and there's nobody remotely on his level due on the market. He'll stay in
New York
, extending the remaining three years on his deal by another three or so. Smart business.
Final bit of
Yankee
for the day:
Ken Rosenthal at Fox Sports suggests the St. Louis Cardinals way out of the Albert Pujols mess
, and possibility of him going to the hated
Chicago Cubs
, would be to work a deal for say,
Mark Texeira
. Wow.
That
would be big. Or perhaps
Philadelphia Phillie Ryan Howard
, who also happens to be a local boy to
St. Louis
. Word is the
Cards offered an eight-year deal worth over $200 million to
Pujols,
one he's expected to turn down. Cards manager Tony LaRussa says the
MLB Players Union is behind Pujols desire for a mega contract
. Maybe partly, but he's in the driver's seat.
I really, really can't get enough of the
Foo Fighters
"White Limo"
, song and vid.