Check out the shirt
Dallas Maverick DeShawn Stevenson
was rocking on Sunday night. If you can't guess, he's asking
Lebron
"how's my
Dirk
taste". Beautiful. We'll forgive the lack of a question mark. Guys with neck ink are not to be messed with.
Not sure which I like better:
"Luongoal", "LeBrongo"
or
"LuGongShow"
. Either way,
Roberto Luongo
is a shell of himself when he's outside the comforts of home ice.
Luongo
lasted all of three goals and less than a period last night as the
Boston Bruins
evened the
Stanley Cup Finals
at 3-3 with a 5-2 win. Maybe he shouldn't have been talking so much junk about the
Bruins
and how
Tim Thomas
hasn't been as forthcoming with compliments for
Luongo
as
Luongo
has of
Thomas
? Maybe that's because
Thomas
knows he's a mirage on the road?
Game 7
goes tomorrow night and it says here the
Bruins
win it. They've been close in every game in
Van City
and the
Canucks
aren't suddenly going to grow a pair after how badly they were abused last night, the
Sedin
twins in particular. If the
Bruins
score another pair quick,
Luongo
might not only not finish the game, he might well be done in
Canucks
colours, which I'm told would be his preference in any case.
The
Canucks
will be minus
Mason Raymond
if early reports of him having suffered a fractured vertebrae in that strange hit just 20 seconds into the game.
Bodog has its 2012 NBA championship odds up. Some notables:
Miami Heat
(5/2),
LA Lakers
(11/2),
Chicago Bulls
(6/1),
Oklahoma City Thunder
(8/1),
Dallas Mavs
(10/1)
Boston Celts
(12/1),
San Antonio Spurs
(20/1).
Bodog
gives the
Toronto Raptors
an
NBA
-worst 150-1 odds to win the 2012 title. Seems reasonable.
How big is first goal in this year's
Stanley Cup
? The team scoring first has won every game in the Stanley Cup final, as has the home team.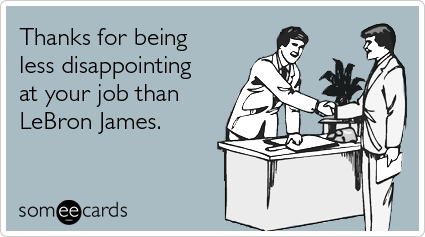 It dawned on me this morning that back in December, when the
Cleveland Cavaliers
were hammered in
LA
by the
Lakers, LeBron James
took to
Twitter
and spoke of God seeing all and karma coming into play. If that was the case then,
LBJ
, it is double the case now. Enjoy, loser. I love that in years prior he would argue he didn't have enough help. Now, he's in the "didn't help enough" group.
LeBron's
8.9 point drop off from his regular season points per game average to what he averaged in the Finals is also historically the biggest drop off of any player. Here are the
top jokes at LeBron's expense
. The
Miami Sun-Sentinel says that the Heat could be broken down to just the Big 2.5 this off-season.
Me, I wouldn't be shocked to see them move
Chris Bosh
.
That's all for today, I've kicked the wounded dog named
LeBron
enough.