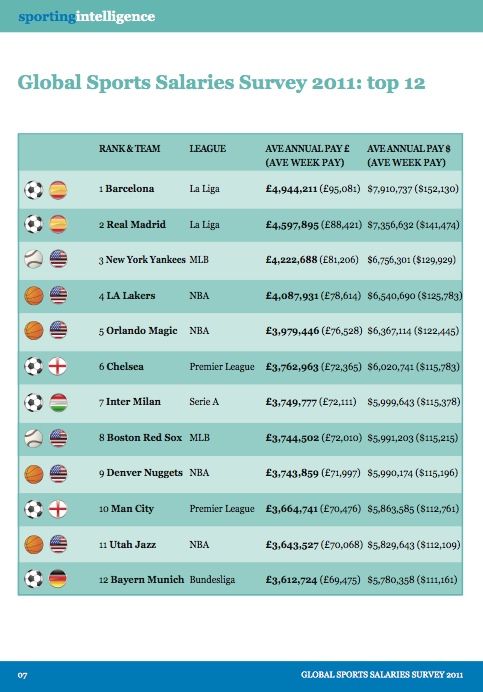 The second
Champions League
semi-final goes today with
Barcelona
at
Real Madrid
, their third match-up in the last 12 days. Those two represent the highest paid teams in sports, which you can see at right based on their average annual pay. What is shocking to me is the presence of the
Utah Jazz
and
Denver Nuggets
on that list. Also shocking is that the
NBA is the highest paid league in sports,
though the small roster size helps that. Suspect
NBA Commissioner David Stern
is going to do something about that in the next
CBA
. Oh, as for the
Champions League
bit, I'm thinking a draw today, and have a strange feeling that
Real Madrid
just might get through to the final. Hope you were playing along with yesterday's selections in soccer and hockey, which went 4-0.
Yesterday's
Champions League
semi saw
Manchester United absolutely dominate Schalke 04
, who played like they were on the road looking to draw. It was only 2-0, but could have been 6 or 7 if not for some stellar goalkeeping from
Manuel Neuer.
United
had 67% possession of the ball, and have all but assured they're in the final on May 23rd.
I found myself watching last night's fantastic
Game 7
in
Vancouver
rooting for
Chicago
. Now, I don't go for this "support the
Canadian
team" thing at the best of times when it comes to pro sports, mostly because so often the other team has as many or more
Canadians
on the squad, but I think there's something about that
Canuck
team I just don't like. Maybe it is the whining
GM Paul Gillis
? At any rate, after their 2-1 overtime win, the
Canucks
celebrated like they won the
Stanley Cup
, forgetting (1) it was only the first round and (2) they were the #1 seed facing a #8 and (3) they almost choked away a 3-0 series lead. And then, a couple
Canucks
gave me solid reminders of why I don't like that team. First up, goalie
Roberto Luongo who said "this one might be better than the Olympics."
Really? A first round win tops a gold freaking medal for your country? The one thing it is fair to say is he contributed as much to both wins, which is to say, not much at all. If he were a wrestler or boxer, his handle would be
"Coattail Rider"
. And then
Ryan Kessler
, dynamite player that he is, said post game "the guys wanted to win this one as much as I did." That was amid at least a half dozen "I" references.
Douche chill.
The
Canucks
take on the
Nashville Preds
, starting tomorrow night.
Maybe the
Toronto Blue Jays
ought to shoot some ads that don't have players swinging on turf, or with a wall behind them when doing so? Who the hell thought that was a good idea? One thing accurate: no fans in the stadium. Way to sell the sizzle, whoever came up with this ad campaign.
New York Yankees GM
Brian Cashman
didn't exactly roll out the red carpet when the club signed
closer
set-up man
Rafael Soriano
, declaring it wasn't his idea. So far,
Cashman's
looking wise there.
Soriano
has already given up 9 earned runs - he gave up 12 all last year - and has played a big roll in three of the
Yanks
8 losses. I'm sure the passive
Yankee
crowds haven't noticed yet.
So much for the idea that the
Buffalo Sabres
big goaltending edge would carry them in
Game 7
. The
Sabres
were pounded 5-2 in
Philadelphia
last night. The second seeded
Flyers
and top seeded
Washington
won't know who they're facing next round until tonight's pair of Game 7's are completed, the first that we'll mention is
Pittsburgh
hosting
Tampa Bay
. Going to break from form here and suggest the roadie wins
Game 7
.
The
Montreal Canadiens
forced a game 7 tonight after a 2-1 win over
Boston
, aided by a pretty undisciplined
Bruins
squad, led by
Milan Lucic
going bonehead with a nasty hit on
Jaroslav "Sissy" Spacek
that saw him ejected, though he will play tonight. They'll turn around and play tonight in a series that had a pair of two day breaks, but now goes back to back. How any of that makes sense is beyond me. Anyways, I'm saying
Boston
wins this one.
And if all that wasn't enough, the
NFL Draft
starts tonight, with the added bonus of the ever exciting labor deal speculation. Yawn.
After last night's loss, the
Boston Red Sox
are now 5-1 on the year against the
Baltimore Orioles
. Wonder if
Buck Showalter
wants that comment back a few weeks ago where he spoke of how he loves kicking the
Beantowners
asses?
New York Jets
coach
Rex Ryan
has a new book coming out
in which he looks forward to celebrating championships with Jets fans, and takes a run at a few players, including former
Jets
. His best run comes at
Tom Brady
, and this is truly a compliment: "I really don't know
Tom Brady
, but who wouldn't hate him? Look at his life. Actually, look at his wife. Every man in
America
hates
Tom Brady
, and he should be proud of that."
Toronto FC
visits
Edmonton FC
tonight in
Canadian Championship
play. I'm expecting to see a streaking
Bukakke
on my TV sometime between 7:30 and 9:30 on
SportsNet Ontario
or
West.
The
East
and
Pacific
versions are carrying
Montreal
at
Vancouver
at the same time.
This may well be the most epic of Epic Meal Time's ever. Wow.