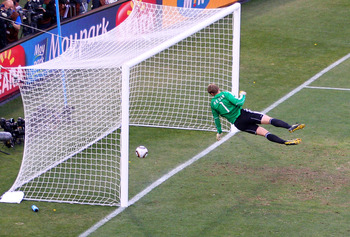 Oh,
FIFA
, silly you for not taking any number of opportunities in the past to learn from your mistakes and figure that in this day and age, using video replay isn't only a smart thing to do, it is the right thing to do. Two goals yesterday were scored - one in each Round of 16 game - that altered momentum and left the games looking like something less than legitimate. Even if they only did the chip in the ball thing that would send a signal when the ball crossed the line - technology that already exists - they'd be at least half extricated from the mess they found themselves in yesterday.
FIFA's
response to yesterday's debacle is to
stop showing video replies in stadium
. Very evolved. As I said last week, shoddy officiating is the story of the tournament right now. The one I'm surprised people aren't discussing is the poor shape of the field's they're playing on. The field this morning came apart far too easily. Somebody will get hurt. Oh,
Germany
beat
England
4-1 and
Argentina
beat
Mexico
3-1 to set up a juicy matchup Saturday. Cheer up,
England
fan,
as you still have this.
In a round of 16 game this morning,
Holland
downed
Slovakia
on the strength of a beauty goal from
Arjen Robben
and another from
Wesley Sneijder
.
Slovakia
scored a last second PK to make the blow a bit softer.
Holland
will face the winner of
Brazil
and
Chile
, who kick off at 2:30pm (Eastern).
German
publication
Der Spiegel
has broken a story that implicates a high ranking UEFA - Europe's governing body for soccer - in match fixing.
French language link here.
Entourage
came back to the airwaves last night, and in celebration, here are some
hot ass Entourage ladies
.
One
NBA
source has called
a LeBron James and Chris Bosh union in Chicago a "done deal".
Sportsbook.com
had
LeBron
as +125 and
Chris Bosh
as +300 to sign with the
Bulls
. Now, both are -300. But wait, that's not all...
Stephen A.Hole Smith
says that he's heard from multiple sources that
both will be joining Dwayne Wade in Miami
. How scary would that team be with that three headed monster?
Some aeronautical engineers confirmed what most with eyes could see. The
Jabulani
ball being used at the World Cup performs inconsistently.
Since May 23rd, the
Tampa Bay Rays
are 12-19 and have dropped into third in the
AL East
. And what's better than two teammates getting nose to nose because one
BJ Upton
isn't playing hard and
Evan Longorria
has to tell him about it?