Apologies for the delay,
Blogger
was down for most of the day.
Can you recall a
Stanley Cup Final
where there were two more inept goalies than this one? Don't get me wrong, it is making for far more exciting stuff seeing some goals scored than when you're watching a dull game where five guys collapse before Hal…err…the goalie, but these guys don't look like champions. The
Chicago Black Hawks
moved to
within a game of winning the Cup thanks to a 7-4 win.
Not a good night for
Chris Pronger
. He was -4 and in the box for another goal in the first five.
The
Boston Celtics
evened their
NBA Final
at a game apiece, beating the
LA Lakers
wire to wire last night in L.A. Celtic Paul Pierce was caught on video saying the series will not be coming back to L.A. See video at the bottom of today's entry.
We talked last week of
Alex Rodriguez
ridiculous numbers when a team walks
Mark Teixera
intentionally to get to him, so what did
Toronto Blue Jays
manager
Cito Gaston
do yesterday with one out? He walked
Tex
. Now,
A-Rod
didn't come through this time, but nor did he ground into a double play like
Cito
was hoping he might, so then that left the
Jays
to face
Robinson Cano
, who is hitting as well as anybody in the world this season, and doubled home a pair. We'll leave it to
SI.com's Jon Heyman
to
assess the move by Gaston via Twitter
: "
Cito's
call to int. walk
Texeira
w/ 1 out and pitch to
ARod, Cano
is single dumbest move I've seen this season. #getaclue". Careful
Heyman
, lest
Cito
and the
Jays
see you
suspended from your job for asking legit questions in much the same way that Fan590's Mike Wilner was
for questioning
Cito
earlier in the week. The
Jays
took two of three from the
Yankees
, though the last two could have gone either way.
Word is
Philadelphia Phillie Ryan Howard
is
dating Victoria's Secret model Selita Ebanks
. Nice work, RH.
Tweets the great site Mental Floss:
Poet
Heinrich Heine
left his wife his fortune with one catch: she had to remarry. "Then there will be at least one man to regret my death."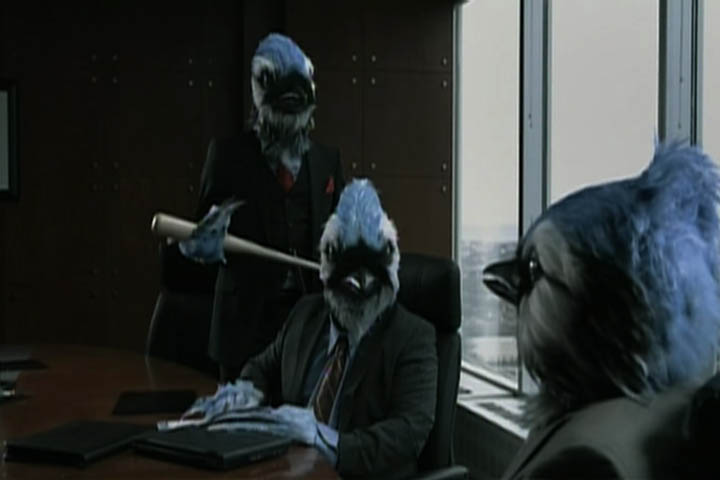 Gonna go out on a limb and suggest that the new
Toronto Blue Jays
ads, at left, featuring bird characters in suits are very much lifted from
Them Crooked Vultures, at right.
Best move the
Jays
have made in decades! To take it a step further, even the
SportsNet
broadcasts go to commercial playing
TCV
.
Gotta love
Alberta
allowing bars to
serve booze at 8am
for the
World Cup
.
The
MLB
draft starts tonight and ends sometime in the next year or so. Only slight exaggeration there. Ought to be an interesting few days for the
Toronto Blue Jays
, with four picks in the first 41.
Quick hits:
Toronto FC
played a scoreless draw with
Kansas City
that was as dull a game as you'll ever see. Expected more from
TFC
ahead of a three week break for the
World Cup
…speaking of the
World Cup
, seems a lot of big name stars are going down ahead of the big tourney:
Arjen Robben
of
Holland
is the latest to join the list of the out or questionable with a bad hamstring.
Holland
has looked damn impressive in the run up to the tourney…strange as it may seem, but
Ken Griffey Jr.
didn't hit over 100 RBI in his last decade in the Majors...
Paul Pierce
talks smack...