The
Boston Celtics
opened a house of fire against the
LA Lakers
last night, with a rocking Gahhhhden, but it wasn't to last, as the
Lakers
took game three with a 91-84 decision. Wonder if
Paul Pierce
still thinks it isn't going back to
L.A
.? Funny stuff in the stands, as there were 5,000
Khloe Kardashian
masks - aka
Mrs. Lamar Odom
- handed out pre-game, and the fans were working a "Ug-lee sis-ter" chant as he obviously did get the less attractive
Kardashian
option.
Stephen Strasburg
made his
Washington Natinals
debut last night, and it was a strong one with a win, 14 K's and no walks over seven innings.
ESPN.com's
Buster Olney
points out that a good major league pitcher will get about 11 missed swings of every 100.
Strasburg
had a stunning 18 missed swings among 94 pitches. Now, before we get too crazy here, let's remember that he pitched against the
Pittsburgh Pirates
, a team not even good enough to be called bad. Let's see what he does a month in when teams have a bit of a book on him and he's facing a team that's at least a threat.
Strasburg's
next start is Sunday against the equally woeful
Cleveland Indians.
Enjoy Strasburg while you can, word is his agent
Scott Boras
is being militant he's only to work 95 innings in the bigs this year, which leaves him with 88 left.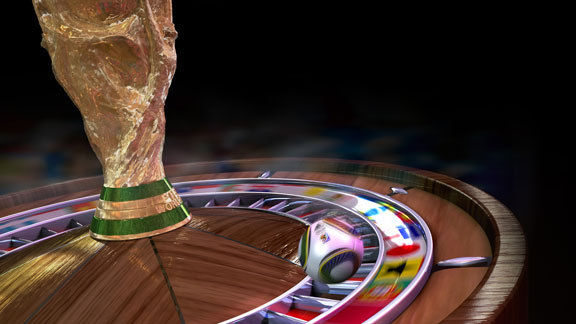 How much is estimated to be gambled on the
World Cup
? A mere $1.5 billion, says
Chad Millman
at
ESPN.com
(Insider required).
The Sporting News
is predicting that the
New York Jets
will win the
Super Bowl
this year in
Dallas
, over
Dallas
.
Crazy World Cup stat: 11 of the last 13
World Cup's
have had one or both of
Brazil
and
Germany
in the final.
I'm not going to explain to you why this is funny, but if you don't know, know that it is.
Portugal's Nani
hurt himself and is said to be out of the
World Cup
thanks to a busted collarbone suffered while trying an overhead kick.
The
Vancouver Whitecaps
new logo is out in time for their
MLS
launch next year. It is very much simple, which I tend to favor, but also a bit of a nod to those
Canucks
unis of yesteryear, no? Some snow and water colours, and mountains, fittingly, but the rip job from
Volkswagen
seems a bit odd.
The
rumor mill has Sacramento as Hedo Turkoglu's preferred destination
if the
Toronto Raptors
can (miraculously) swing a deal to move his five-year, $53 million deal. Sounds like it would be at least
Andres Nocioni
coming to the 416.
Manny Pacquiao
has
agreed to the 14-day blood test ahead of a proposed fight with Floyd Mayweather.
It'll be interesting to see what
Floyd
comes up with now, or whether he finally drops the issue, and figures making $40 million is worth doing if you might lose your perfect record.
David Geffen
- entertainment mogul -
wants to buy the LA Clippers and bring LeBron James in
to make the franchise. Not only that, he's said his ownership would in fact deliver
LeBron
. Personally, I'd love to see it happen, but can't see 'bron going to a second class franchise in a city that
Kobe Bryant
owns already.
I'm figuring if I attempted to squat 1000+ pounds, whatever blew out of me wouldn't be spewing out of my mouth, but not this guy...