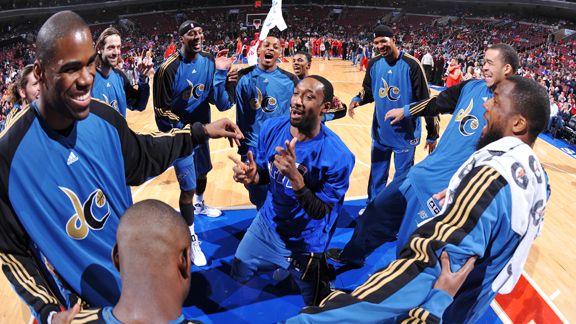 Today's
RandoMango
is brought to you in 3D. Strap on your goggles and get ready to go.
Had to go with two pictures today because I'm torn as to which is better.
Gilbert Arenas
"finger guns" which surely forced
NBA Commissioner David Stern's
hand into suspending him indefinitely without pay for his locker-room gun play, costing him $150k per game, or the screen cap from
Boise State's Fiesta Bowl
win earlier in the week featuring
Jeron Johnson
- and what else could it be
but
Johnson
? - who apparently majors in porn judging by the picture below.
Alabama
and
Texas
are playing the mythical
National Championship
bowl game tonight. Sorry,
Longhorn
, this one is
Crimson Tide
in a blowout, covering the four. Kickoff is 8pm Eastern. Yes,
GS
, I lifted your team name shtick. Love it.
Pardon The Interruption's Tony Kornheiser
calls the
New York Jets
"the luckiest people since
Ringo Starr.
" If you're not aware, that is pretty freaking lucky.
There's never, ever a dull moment when you're in
Buffalo
to see the
Bills
, but
judging by this article
sent my way from
GBVH
, this past Sunday's game was something special. As an added bonus, some
Canadian
content too.
More
Bills
news. Seems
Brian Billick
contacted
Mike Tice
, one of his former co-ordinators about
joining him in

Buffalo

should he land the job
.
Tice
in
Buffalo
? You know what this means...you can buy tickets to sit among the player's families come playoff time!
Tony Dungy
figures the talk of how the
Indianapolis Colts
tanked a shot at perfection only to play some key players -
Reggie Wayne, Dallas Clark, Peyton Manning
- the week after in a blizzard in
Buffalo
so they could set some individual records will
motivate them the way

SpyGate

motivated the

New England Patriots
in 2007. If you say so, TG.
Chad Ochocinco
says that his knee feels fine after
testing it out during a bout of sex earlier
in the week. Whatever you say, 85.
The bidding on
Cuban
defector
Aroldis Chapman
is expected to go to $20 million. ESPN's
Buster Olney
notes that there is concern in some quarters that he is
better suited for relief
than as a starter. That's a boatload for a guy to get out of the gate as a reliever.
Olney
also says the
New York Yankees
are out, and the
Toronto Blue Jays
or
Anaheim Angels
are the likely landing spot.
The
Hall of Fame

votes are in for baseball
and they got it both right in finally admitting
Andre Dawson
, who is the sole entrant this time around, and wrong in leaving
Roberto Alomar
, only three votes shy of the required 75%, out. The good news for
Alomar
is that since 1968, 13 players have polled 50% of the vote but failed to make it on their first try, and all 13 got in eventually. The
NY Post's Joel Sherman
offers his take on the voting process and results here. I'm not a fan of how political some voters get and think nobody should get in first year unanimously or sending in blank ballots, but the baseball
Hall of Fame
is the most legit of them all. It is strictly the best of the best.
Dawson
is said to be
unsure which hat he'll be enshrined with
.
Hawk,
it starts with
"Montreal"
and ends in
"Expos"
.
Good to see boxing take something that would've been universally applauded - a huge fight - and turn it into a joke. After back and forth from both camps, and then mediation to try to bring them together for a March 13th fight,
Floyd Mayweather
and
Manny Pacquiao
will apparently not be getting it on
, according to promoter
Bob Arum
. Way to go, Boxing.
Have a great Thursday, back in the morning.